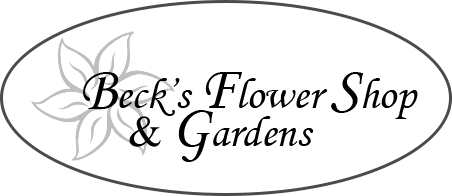 About Us
Becks Flower Shop has been proudly serving Jackson since 1946. We are family owned and operated with one location serving the Jackson area. We are committed to offering only the finest floral arrangements and gifts, backed by service that is friendly and prompt. Because all of our customers are important, our professional staff is dedicated to making your experience a pleasant one. That is why we always go the extra mile to make your floral gift perfect.


The Beck's Florist team (from left to right): Angeline Beck & Curtis Beck, Gary Beck, Ellen Seydell, Cheryl Beck, Sarah Munson

Let Becks Flower Shop be your first choice for flowers.
Business Hours
During the months of January, February, March, July, August, & September -

Sunday - Closed
Monday - 8 a.m. - 5:30 p.m.
Tuesday - 8 a.m. - 5:30 p.m.
Wednesday - 8 a.m. - 1 p.m.
Thursday - 8 a.m. - 5:30 p.m.
Friday -8 a.m. - 5:30 p.m.
Saturday - 8 a.m. - 1 p.m.

During the months of April, May, June, November, & December -

Sunday - 10 a.m. - 3 p.m.
Monday - 8 a.m. - 5:30 p.m.
Tuesday - 8 a.m. - 5:30 p.m.
Wednesday - 8 a.m. - 5:30 p.m.
Thursday - 8 a.m. - 5:30 p.m.
Friday -8 a.m. - 5:30 p.m.
Saturday - 8 a.m. - 4 p.m.



On the following HOLIDAYS we will be CLOSED -

* July 4 * Christmas Day * New Year's Day * Easter

We deliver to the following areas and zip codes:
Brooklyn, MI- 49203 (limited areas & call to confirm)
Clark Lake, MI - 49234 (limited areas & call to confirm)
Concord, MI - 49237 (limited areas & call to confirm)
Grasslake, MI - 49201, 49240
Hanover, MI - 49241 (limited areas & call to confirm)
Horton, MI - 49246 (limited areas & call to confirm)
Jackson, MI - 49201,49202,49203
Michigan Center, MI - 49203, 49254
Munith, MI - 49259 (limited areas & call to confirm)
Napoleon, MI - 49201, 49261
Parma, MI - 49269
Pleasant Lake, MI - 49272
Rives Junction/Tompkins, MI - 49201,49269, 49277
Spring Arbor, MI - 49283
Springport, MI - 49284 (limited areas & call to confirm)
We deliver to the following funeral homes:
Affordable Cremations by Wetherby's - Jackson, MI
Arthur-Day - Jackson, MI
Borek-Jennings - Brooklyn, MI
Burdens - Jackson,MI
Desnoyers -Jackson,MI
Hamptons - Jackson, MI
Hampton-Krutz-Hanover - Horton, MI
House of Johnson - Jackson, MI
Patience Montgomery - Jackson,MI
Sherwood - Grasslake, MI
Vickers-Leslie - Springport, MI
Watsons - Jackson, MI